Check Your Healthcare Costs Now!
Learn More!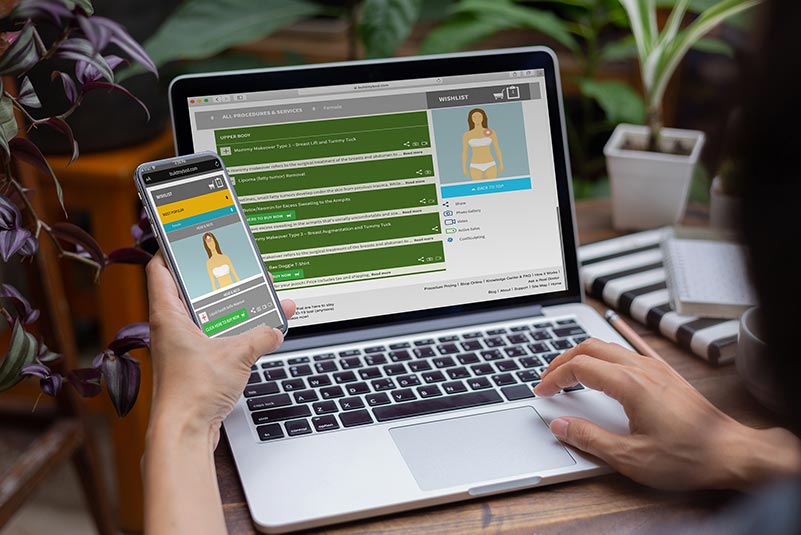 Check Prices
Create a wishlist to determine prices on procedures that interest you and even submit your wishlist to the doctor for a consultation.
Get Pricing
Shop Online
Don't sacrifice quality for price. Purchase non-surgical services and products from physicians near you. Memberships and Subscriptions also available.
Shop Online
Knowledge Center
And FAQ
Learn about procedure risks and recovery information, view photo galleries, even ask a doctor in BuildMyHealth's knowledge center.
Get Answers
From the Blog
"I think BuildMyHealth is a great tool to engage patients as well as to build a database of potential future patients before they even call into the office."
"BuildMyHealth is the most effective way to obtain potential patient contact information from your website. The number of patient email contacts from BuildMyHealth is 2-3x any other referral source I've tried."
"The amount of data that BuildMyHealth gives you is really the best part about it… It broadens your web presence and SEO…"
"Fewer clicks and less searching by the patient. It gets them right to how much that procedure is going to cost and is less frustrating…"
"It surprised me how well patients respond to price transparency… BuildMyHealth shortens the sales cycle and I would highly recommend it…"
"We generate 3,000 leads per month. It's brilliant to give out pricing, because it's the number one question we get. But you give out pricing in return for a lead…"
"Not a day goes by that I don't receive a qualified lead from the BuildMyHealth Price Estimator. Even Saturdays, Sundays and in the middle of the night. Nothing else I've done even compares."
"BuildMyHealth is special in that it generates hundreds of leads per month while providing a unique tool to help connect with patients AND actually gives patients useful info…"
"BuildMyHealth allows for collection of lead contact information and complete price transparency with no disruption to the normal office flow."
"BuildMyHealth has revolutionized our ability to offer price transparency to patients…"
Our Partners
We work with all of these companies to make tracking your leads and sales easier.